Microneedling Treatment Specialist in Colmar, PA
Microneedling is a non-invasive skin treatment. Thin needles are used to create tiny holes in the top layer of your skin during the procedure. Damage stimulates your skin's healing process, causing it to create more collagen and elastin. Microneedling can help improve your skin's appearance and texture. It can help to reduce stretch marks, scars, wrinkles, and other skin issues. If you need treatment for scars, wrinkles, or hyperpigmentation, you may be a good candidate for microneedling. Connect with Floyd Herman, MD, and his skilled team at Lansdale Plastic Surgery to learn more about the procedure. For more information, feel free to contact us or request an appointment online. We are conveniently located at

2405 North Broad Street, Colmar, PA 18915

.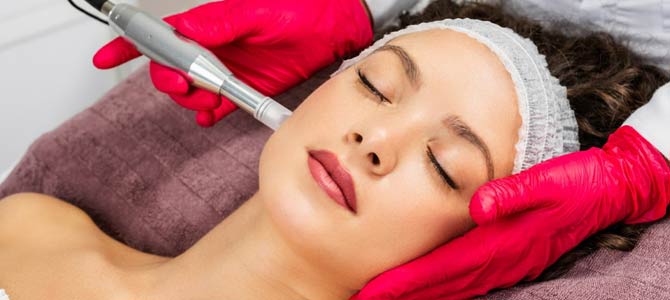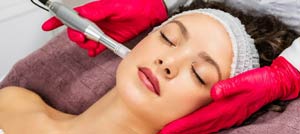 Table of Contents:
What does microneedling do?
What can microneedling treat?
Who is a good candidate for microneedling?
Is microneedling good for tightening skin?
What does microneedling do?

Microneedling is a cosmetic procedure that works by encouraging the skin to make more collagen by creating microscopic punctures in the skin using a tool that holds very fine, sterilized needles. These minor punctures are not visible to the naked eye but are enough to trigger the natural healing response of your body, resulting in increased amounts of collagen-rich tissue and tighter, smoother, and clearer skin. Collagen is an essential protein found in many areas of the body and is what helps to maintain the structure and integrity of the skin. As we age, collagen production slows, causing the lines and wrinkles that we all associate with aging. As well as aging, collagen can be lost due to injuries to the skin, such as acne scarring, stretch marks, or other scars, and microneedling can be used to address these issues as well. It is also not a quick fix, as it can take time to see the full results.
What can microneedling treat?

Microneedling is generally used on the face to target facial skin concerns, but it can also be used to treat stretch marks on the thighs and abdominal area. One study from the National Institutes of Health found that microneedling was successful in reducing the appearance of stretch marks in these areas when used in combination with dermal fillers. The facial concerns that microneedling is used to treat are:

● Acne scarring
● Age spots
● Fine lines and wrinkles
● Large pores
● Sun damage
● Reduced skin elasticity
● Uneven skin tone and texture
● Hyperpigmentation
● Rough patches
● Rosacea
● Hypertrophic and keloid scarring
Who is a good candidate for microneedling?

A good candidate for microneedling is someone who is in good overall health and has certain skin concerns that haven't responded to home treatments or other procedures, such as chemical peels. Since microneedling works for a variety of skin types and issues, almost anyone can benefit from it. However, those with a current acne outbreak or skin infection will have to wait until that issue is resolved before having a microneedling treatment. That being said, it would be a great choice for those who want to deal with:

● Acne scars
Many people suffer from acne in their teens and early adulthood, and it eventually settles down over time, but the scars resulting from severe cases can last for years. Microneedling can be used to help eliminate these scars and heal the skin, but particularly deep scars will have to be evaluated to determine if microneedling is the best treatment option. Chickenpox scarring or other blemishes may also be treated with microneedling, but again, assessments will be carried out before treatment to assess suitability.

● Skin impurities
Sun damage, hyperpigmentation, or birth defects can cause issues with uneven pigmentation when certain patches of the skin darken. The new skin that is generated with a microneedling treatment helps to even out these darker areas.

● Signs of aging
The skin starts to produce less collagen in the late 20s, kick-starting the aging process. Loss of firmness in the skin, fine lines, and wrinkles are often the first signs of aging, but by getting the body to produce more collagen, these early signs of aging can be stopped from developing.
Is microneedling good for tightening skin?

Skin tightening is one of the things that microneedling does best. The loss in skin volume caused by the breakdown of collagen increases as we age, so it follows that anything that is going to increase collagen production is going to help reverse this damage. The microscopic damage caused by microneedling and the subsequent healing responses by the body result in an overall improvement in the texture and tightness of the skin.

If you would like to know more about how a microneedling treatment can benefit you, contact Lansdale Plastic Surgery today! For more information, contact us today or schedule an appointment online. We are conveniently located at 2405 North Broad Street, Colmar, PA 18915. We serve patients from Colmar PA, Montgomeryville PA, Lansdale PA, Skippack PA, Harleysville PA, Hatfield PA, Blue Bell PA, and surrounding areas!